One of the reasons Las Atlantis has continued to attract a large number of players is because of its generous rewards. The Las Atlantis casino payout ranks among the leading in the industry. Besides, players are provided with flexible methods for withdrawing their hard-earned money. Read to the end to learn more.
Withdrawal Methods Offered by Las Atlantis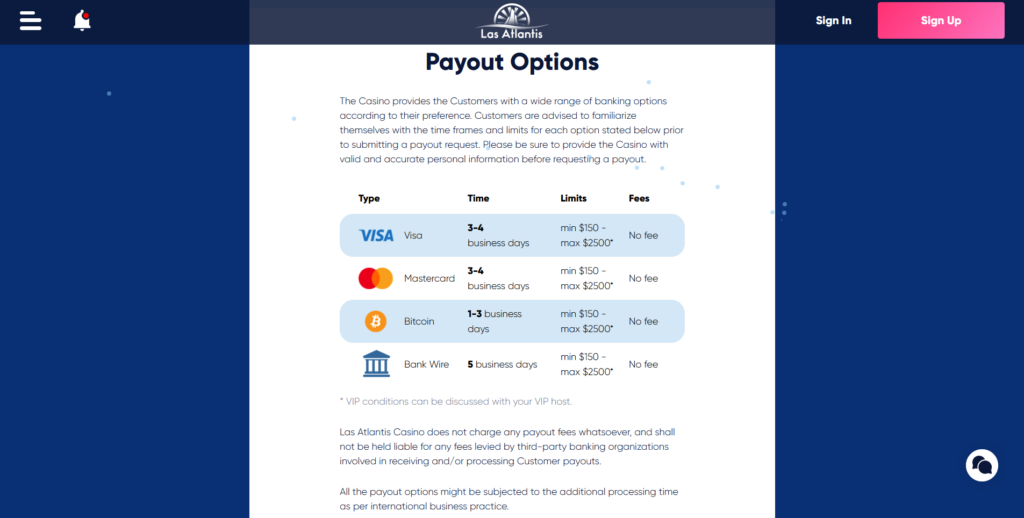 After getting your first earnings at any casino, making the initial withdrawal can seem quite daunting. However, that's not the case for Las Atlantis. The casino provides you with various for getting access to the much-deserved money. Withdraw the money using any of the following methods and settle your everyday bills.
Credit card – Using your credit card for Las Atlantis casino withdrawal is one of the most flexible and efficient methods. It is also one of the fastest. You can use MasterCard and Visa to withdraw at Las Atlantis online casino. All that you need is to provide your credit card number and the photo of both sides of your card, hiding your CVV. Las Atlantis casino doesn't charge any fees when players want to get their payouts.
Bitcoin – It is not surprising that Las Atlantis casino supports withdrawals via the most prominent cryptocurrency in the market. Bitcoin transaction provides the highest security level of your personal data, that's why it is so popular in the gambling circles.
Direct bank transfer/bank wire(U.S. players) – United States players can request the platform to perform a direct bank transfer of their earnings. Just be sure to use the Las Atlantis casino payout verification email when requesting payment using this method.
Withdrawal Limits
Most Las Atlantis casino payout reviews analyzed showcase a trend of delighted players. That means the maximum withdrawal of $2,500 per week seems to be working for most people. All withdrawals are made only in AUD and USD.
Payout Process
Las Atlantis casino validation policy has to be followed before you get your payout. Do not worry because this is a simple process. All that's required is to log in to the account, which ascertains that you are the actual account holder requesting the withdrawal. Verifying a player's account takes a few simple steps – they must confirm their identity, provide payment information and a valid address. All of this information should be sent to the email [email protected]
Once logged in, navigate to the banking section and choose your preferred withdrawal method. Input the amount desired, and that's it!
Customer Service
Las Atlantis has excellent customer service. Not only do you have access to the Live Chat feature, but you can also get in touch through their support telephone at +1 855 313 8974, +61 1800 775 026.
The representatives also seem knowledgeable and are patient until you ask all your questions.